We had a wonderful and heartwarming visit to Joanna's lake house to swap soup and share some good times. January 26-28, 2018
Friday night Joanna greeted us with a Southern dinner of ham and biscuits, green beans, mac and cheese and not banana pudding. (It would have been an amazing meal if we had just had some banana pudding.) (Our weekend joke – not that we would ever run anything into the ground.)
We talked around the table and caught up with each other. We have had a lot of fun around this table and of course, lots of fun at the game kitchen table but more on that to come.
Saturday Morning, we woke up to Terri's Southwestern Breakfast Casserole, cinnamon buns and fruit. Recipe posted soon…
After breakfast we went hiking, shopping, hanging out, and adventuring so we could work up an appetite for Saturday lunch which was Lasagna Soup, Salad, and Bread made by Gina.
Cindy texted us from poolside. She wasn't at the swap but she was in our hearts. We missed our other absent birdies, too!
We had an evening supper of Chicken Pot Pie from Nancy Perkins. You never go hungry on these weekends.
We played games late into the night and enjoyed snacks. This Ranch Party Mix is really good with the Cheez-its in it. I adapted this recipe but I am borrowing the photo from The Common Plate blog.
Ranch Party Mix
3/4 cup Butter, melted
1 package dry ranch dressing mix
1 9- oz package oyster crackers
1 11.5 oz box Cheez-its
8 oz (half of a normal bag) waffle pretzels (can use no salt)
1 tsp onion powder
1 tsp garlic powder
2 tsp dill weed
Directions:
Preheat oven to 250 degrees. In large bowl combine oyster crackers, Cheez-its and pretzels. In a small bowl mix together the butter, ranch dressing mix, onion powder, garlic powder and dill weed. Spread snack mixture evenly among cookie sheets – sprinkle with more dill if desired. Cook at 250 degrees for approximately 30 minutes (after 15 minutes give it a good stir and return to oven). Store in an airtight container. Will keep for about 2-3 weeks.
Kim made this very elaborate Cheese Dip Tray. Definitely a show-stopper at a party.
4 Dip Casserole
Ingredients
1 cup cooked beef, minced
4 oz light cream cheese, softened
4 oz shredded mozzarella "provolone"
Spinach and Artichoke Dip:
1 (8 ounces) package cream cheese softened
1/2 cup chopped artichokes
1/2 cup chopped spinach thawed
1 cup grated mozzarella cheese
Salt and freshly ground black pepper to taste
1 cup cream cheese, softened
21/2 cups shredded cheddar cheese, split
1/4 cup chopped spring onions
2 cups shredded cooked chicken
1 (8 oz.) package cream cheese, softened
Finally, we played some games around the kitchen table. We played Chameleon and LCR. Terri brought lots of dollars and Gina won lots of dollars.



We ended with a late night Meatloaf rendition, exchanged a few Magic Bag items and headed to bed.
Sunday morning greeted us with a beautiful mist over the water. Cozy and serene.
And then we enjoyed some chewy coffee. Better strain that again.
As we left, we exchanged quarts of soups. The recipes are below.
What a wonderful weekend! Thanks Joanna for hosting us in your amazing lake house. Hope you're enjoying your goodie basket.
Soups
Chicken and Gnocchi Soup – Gina
CHICKEN AND GNOCCHI SOUP
INGREDIENTS
3 or 4 chicken breasts, cooked and diced (or 3-4 c chopped rotisserie chicken)
4 cups chicken stock
2 cups half and half
1 stalk celery, diced
1 garlic clove, chopped
½ carrot, diced
½ onion, diced
1 cup (or more) fresh spinach, chopped
1 tablespoon olive oil
1 teaspoon dried thyme
Salt and pepper to taste
16 ounces potato gnocchi (or 17.5 oz pkg from Costco)
DIRECTIONS
Sauté the celery, garlic, carrot, and onion in olive oil over medium heat until onion is translucent.
Add chicken, chicken stock, salt, pepper, and thyme. Heat to boiling, then add gnocchi. Gently boil for 4 minutes.
Turn down to a simmer for 10 minutes.
Add spinach and half and half and cook 1-2 minutes until spinach is wilted.
Cheesy Bacon and Baked Potato – Nancy P.
1 32 oz. carton Chicken broth
1 10.5 oz. can of cream of chicken soup
1 8 ounce block cream cheese
1 chicken bouillon cube
1 32 oz. bag of frozen diced hash browns
4 cups shredded cheddar chees
1 9- ounce bag of real bacon bits
salt and pepper to taste
Set crock pot to high and add chicken broth and cream of chicken soup. Mix well. Cut the cream cheese and add; mix well. Add chicken bouillon cube. Next pour frozen hash browns in and stir. Add 4 cups of shredded cheese. Add bacon bits. Add salt and pepper. Cook on hight for 4 hours. Put shredded cheese, bacon bits, and chopped green onions out for people to top their soup with if they want.
Broccoli Cheddar – Nancy S.
1 large head broccoli (a little more than 1 pound), chopped into florets and stems
1/4 cup butter
1/2 medium onion, chopped
1 carrot, diced
1/4 cup all-purpose flour
1 quart vegetable stock
2 cups whole milk
8 ounces cheddar cheese, grated
1 teaspoon salt
1/8 teaspoon fresh black pepper
Steam the broccoli until crisp-tender. In a large stock pot soften the onions and carrot in the butter. Add the flour and stir to make a paste. Cook a minute or two and then slowly stir in the broth. Add the milk and the broccoli. Simmer for ten minutes until broccoli is tender. Blend soup in a blender or with an immersion blender. Add the cheese, salt and pepper.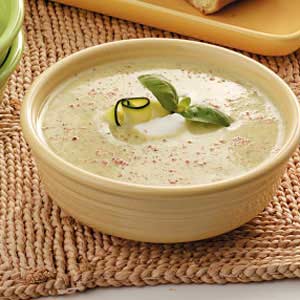 Photo credits to Taste of Home.
Zucchini Bisque – Kim
2 pounds zucchini, sliced (you can leave the skin on)
1 onion, chopped (large pieces are fine)
4 tablespoons butter
1 teaspoon curry powder
2 cups chicken broth
1 1/2 cups milk (it tastes fine with skim milk)
Simmer onion and zucchini in butter until tender. Add all other ingredients. Bring to a boil. Reduce heat and simmer 20 minutes. Cool slightly. Puree in blender. 8 servings.
Vegetable Beef Soup – Joanna
In a large pot add the following:
1 package Lipton's Beef Onion Soup
2 cups water (add more if needed)
1 can whole kernel corn
1 can green peas
1 can cut green beans
1 can black eyed peas
1 can dark red kidney beans
1 can diced tomatoes
2 – 3 potatoes peeled and diced
2 – 3 carrots peeled and diced
1 pound filet mignon cooked and diced
Simmer for about an hour or until potatoes and carrots are soft. Salt and pepper to taste. Makes about 4 quarts. Note: Do not drain the canned vegetables.
Photo credits to Gather for Bread.
Seafood Chowder – Terri…. RECIPE COMING
Miscellaneous:
Charm – Soup Pot
Magic Bag – Blankets – Gina's talent with Julie contributing raw materials, Flying Bird – Julie, Wine Glass Lanterns – Joanna, Paperclips – Nancy P.